Frequently Asked Questions
Creative Movement is a joyful way for children to explore movement through music, develop physical skills, channel energy, stimulate imagination, and promote creativity. Creative Movement provides children with opportunities for noncompetitive, success-oriented and creative experiences. Through movement, children learn about their bodies, the space around them, and each other.
These classes are for children ages 4 - 7 years old. Children must be 4 years old by September 1 to participate in Fall creative movement classes.
The North Star Ballet Creative Movement Program offers classes for ages  4-7. Our classes are planned and presented using brain-compatible principles that make learning fun and enjoyable for all students. Our teachers use a five-part lesson plan. Students explore a variety of dance concepts throughout the semester by warming up with the BrainDance, exploring the concept, developing skills, creating, and cooling down. The five-part lesson plan alternates teacher-directed activities with student-centered activities, and develops skills with improvisation. This structure provides the repetition and novelty that engages all learners. All Creative Movement classes at North Star Ballet incorporate developmentally appropriate ballet vocabulary.
The BrainDance is a sequential and holistic exercise based on reflexes and developmental movement patterns infants move through during their first year and we continue refining throughout our lives. The BrainDance patterns are: Breath, Tactile, Core- Distal, Head-Tail, Upper-Lower, Body Side, Cross Lateral, Eye-Tracking, and Vestibular. The BrainDance integrates mind and body and may be adapted for all ages and abilities. In North Star Ballet's Creative Movement Program the BrainDance is done, in many variations, as a warm-up in every class. The benefits for children and adults cycling through these patterns each week include reorganization of the neurological system, increased blood and oxygen flow to the respiratory system and brain, and enhanced body strength and alignment.
Girls: Plain, black, short-sleeved leotard, pink or skin-toned tights, and pink or skin-toned ballet shoes.
Boys: White t-shirt, black tights, and black or white ballet shoes with white socks.
Please adhere to this dress code. Dance skirts, tutus and costume type attire can be very distracting to your child as well as other students. Hair should be securely fastened away from the face and neck. Ballet students A1 and up should have their hair in a bun. Jewelry may not be worn.
The North Star Ballet dress code may be purchased at Emboite Dancewear Boutique, here in Fairbanks. Thank you for supporting local!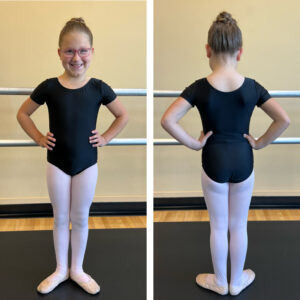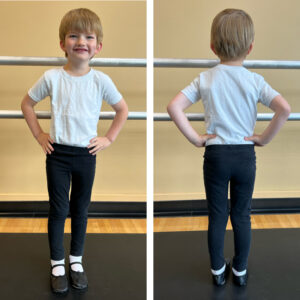 When there is enough interest, North Star Ballet periodically offers a Beginning Teen Ballet class. Otherwise, you should call the studio (451-8800) and speak to one of our instructors about the best placement for your dancer.
For the Fall semester students must be 4 years old or older by the Kindergarten cutoff of September 1st. For the Spring Semester students must be 4 or older by January 1st. This is a hard and fast rule. 
Yes! You may request to pay your dancer's tuition in three installments over the course of the semester.
North Star Ballet also has two scholarship programs which you can learn more about by clicking here.
Absolutely. As with any lesson, dance training proceeds through learning progressively complicated skills. Each class builds on the past as new dance concepts are introduced. Please inform the instructor if your child is unable to attend for any reason. It is important that your child arrive to class on time. The beginning of class is a vital opportunity for your child to feel part of our dance family through our warm-up activities.
All children 8 years old and older are welcome to audition for
The Nutcracker
, regardless of their dance experience. We work hard to ensure that every child who auditions receives a role. Please note your child MUST be 8 years old on the day of the audition, which usually occurs the first week of September.
Pilates is the perfect complement to Ballet.
Pilates conditioning, also known as Contrology, has been extremely popular among dancers as early as the 1920's when Joseph Pilates opened his inaugural studio in New York City.  Leading dance figures such as George Balanchine and Martha Graham studied with Joseph Pilates and sent many of their students to train with him, causing Pilates to gain a significant following in the dance community.  Many dance companies and studios now incorporate Pilates conditioning in their training.
Pilates provides an ideal mode of supplemental conditioning for dancers.  Within this method are themes of centering, strength, flexibility, control, and kinesthetic awareness, all of which can be applied to dance technique for significant improvements in skill and injury prevention.  Pilates is often incorporated into a dancer's rehabilitation if an injury does occur.  The outcomes of Pilates training for dancers are core strength, improved alignment, increased muscle flexibility, strength, and balance.  Pilates' wealth of benefits makes it a highly valuable tool for dance teachers and studios to incorporate into their dance technique classes.
Any class without an enrollment of at least five students may be cancelled.
North Star Ballet School will be closed if the temperature reaches -45 or colder as verified by calling 844.
NSB will be closed when the North Star Borough School District closes due to weather or travel conditions. NSB classes cancelled due to weather or travel conditions will be rescheduled.
Make-up classes are only available by pre-arrangement in the case of illness, injury, inclement weather, or family emergency. Make-up classes are not available to students who choose to skip class due to a birthday party or similar event.
The health and safety of our staff, students, and guests is the primary concern of North Star Ballet. Please read about our COVID protocols by visiting this
page
.
As part of the course of instruction, students are expected to participate in the Class Demonstration at the end of the school year. The demonstration is an opportunity for students to share their progress with others and to build stage presence and performance skills. The Class Demonstration provides a clear picture of the training process. Preparation for the class demonstration is done in class and it is important that students be in classes the weeks before the demonstration. The Class Demonstration involves one staging rehearsal at the theater prior to the actual demonstration. Parents are provided with information about the Demonstration and a schedule of the rehearsal. If a student can't participate, please inform the faculty.
Your child's teacher is available to discuss your child's progress and any concerns or comments that you may have. If there is an issue with your child's behavior in class, an instructor will contact you. Anytime you would like to discuss your child's progress you may contact the instructor by calling the North Star Ballet School at 451-8800.
In the summer of 2017, North Star Ballet purchased Artisan's Courtyard. The building is not only the location of our ballet program, but also home to some amazing small businesses. If you're interested in renting studio space for your special event, workout group, band practice, etc. please use
this form
to request a rental time.